ContentConfessional, a blog about in-world design (primarily furniture and the sorts) will now be carried over ocassionaly to SLOG at the request of Forseti the Titmouse. You can also read it at http://contentconfessional.blogspot.com
(Feature article from SecondStyle Magazine)
I first saw Amelie Fonzarelli's furniture at one of Wuvme's big sales and was very impressed with her work as a whole. Since then I have been harassing her to set up a shop and sell her furniture. Amelie has an eye for detail that surpasses almost anyone I have ever seen in SecondLife for furniture; she effectively unifies all her sets with amazing attention to detail, form, color, and pattern.
To start off I will just show a simple piece of Amelie's. It's a gazebo type structure with hanging curtains and pillows called "The Play Pen". The idea isn't revolutionary but what really makes it stand out is the details, not only do they bring it all together but add a realness to it with variation. Look at the variation in the twisted fabric draped on the outside, instead of just copying one piece she created unique twists and folds in the panels. Also the textures leave you wondering if they are photo sourced, hand made, or somewhere inbetween. Either way they are outstanding and refined without that crusty ripped from google images look.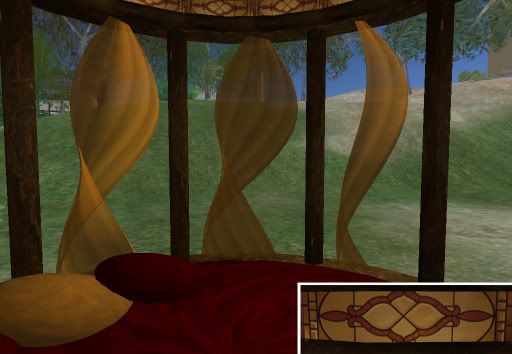 Although all her furniture isn't really my taste, as we all know I have an extreme preference for modern, especially classic modern mid century stuff, but I really cant get over how unified her pieces are. For example this dining set; notice how the chair, table (especially the corner detail), and the accent candles' forms all compliment each other with the loose ends, angles, and clean lines.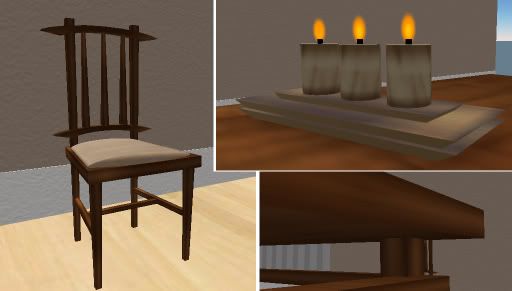 This red set is what initially caught my eye when I first saw her stuff. The lipstick red color and the warm cherry wood really give it some charm. Again the details just get me off.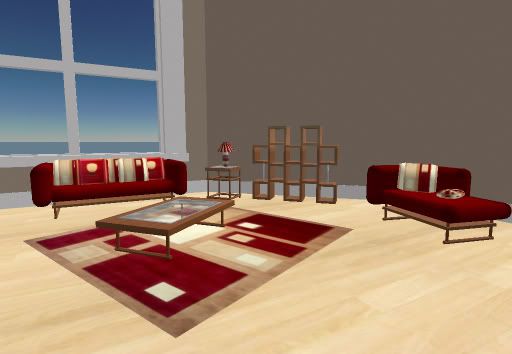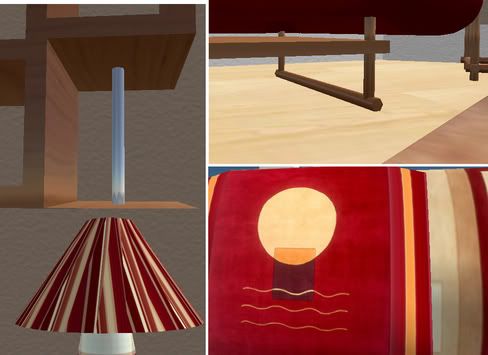 Not only do I love the general rounded cushy form of this set but the structure and support (although not necessary in SL) is really cool. I love the modern sleigh style feet on this set, with the cherry wood runners, it's totally cool. Also the other elements brought into the set, like the rounded steel accents on the shelf and the accent fabrics really bring it together and make it feel like a room, which is something I personally have trouble with when making furniture so I really admire how unified and purposeful everything is.
Amelie's "Seduction in pink Couch" and accent pieces really have seduced me. Again it's not the usual style I mess myself over, but come on look at it.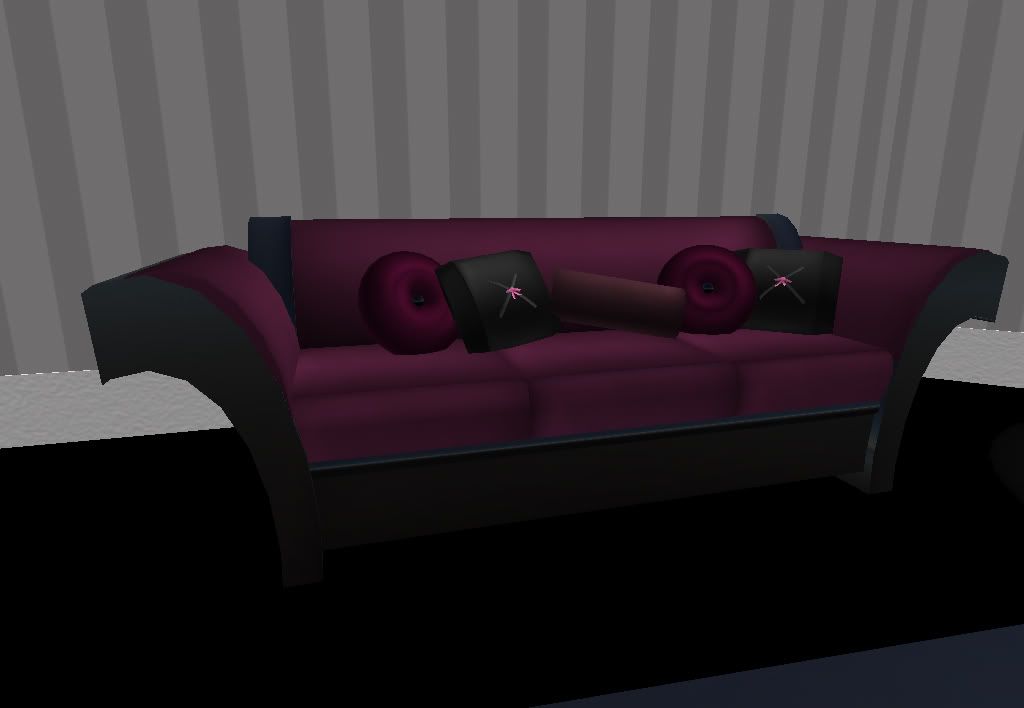 It does have a more modern minimalist ring to it than the rest of her stuff; I like the simple fabrics and shapes in it. Also yes, those are little bows on the pillows, it may be over the top adorable, but so am I (hahaa). The accent pillows are in fun shapes and placement which really adds to the couch. There are only so many ways to make the basic form of a couch with the primitives in SecondLife, and what Amelie is doing here is bringing up the presentation of that basic shape with textures and accents that really make it special.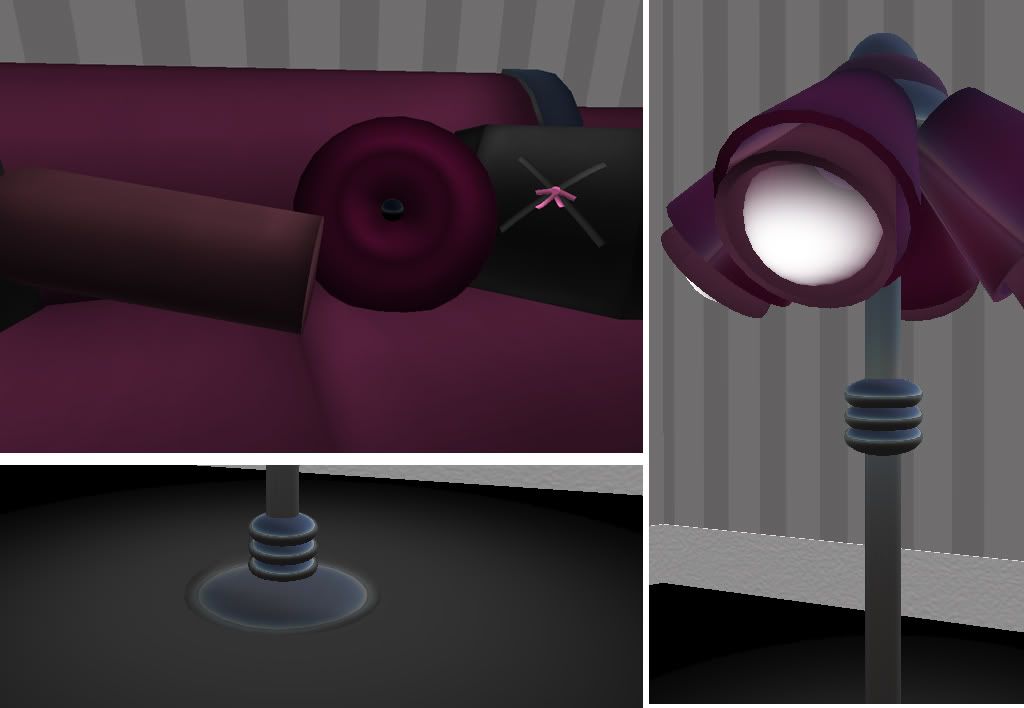 This couch and accent lamp actually has some texture baking on it, but its subtle so it works even in a room/house where everything isn't baked. Notice the texture on the couch for the cushions, also the base of the lamp with the pool of light at the bottom (hard to see but look closely).
So where can you find all this fabulous stuff? For now I have personally given Amelie space on my city land to set up a small shop. It can be found at: Barcola (68, 138, 25)